Inessa Aruena (Serbia)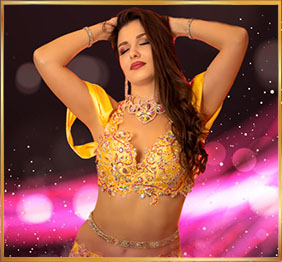 Aruena is oriental bellydance instructor, performer and choreographer from Belgrade (Serbia). Her first encounter with oriental dance was in 2005, and in 2008 she founded her own oriental dance school Aruena, which is one of the largest and best known oriental dance schools in Serbia and the region. It currently numbers over 120 members and more than 1000 students have gone through it from its founding until today. Aruena bellydance school is more and more successful each year and is constantly admitting new students throughout the year, with several assistant instructors working in the school. Aruena is also the founder, choreographer and artistic director of the bellydance troupe Oriental Muses, founded not long after Aruena oriental dance school, through which many talented bellydancers obtained the opportunity to distinguish themselves. Aruena oriental dance studio have their sections also in several cities in Serbia led by students of Aruena. Pancevo, Opovo and Smederevo.
By visiting numerous bellydance festivals all around the world and attending seminars in the country as well as abroad, Aruena gained the opportunity to learn from: Khaled Mahmoud (UK, Eg), Sandra Kahloun (Fra), Maria Aya (Gre), Prince Kayammer (Gre), Yael Zarca (Fra), Karolina Idrisova (Cze), Mayodi (Fra, Eg), Bina (Fra), Aleksei Riaboshapka (Cze), Mandi Aziza Williams (USA), Jillina Carlano (USA), Randa Kamel (Eg), Orit Maftsir (Izrael), Mohamed Sahin (Eg), Marta Korzun (Ukr), Nikolas Kazakos (Gre), Sara Shahin (Ita), Anett Kahena (Hun), Joana Saahirah (Eg), Serkan Tutar (Tur), Azad Kaan (Ger) and many, many others.
Aruena's talent, musicality, harmony of movement, charisma, expressivity, interpretation and the uniqueness of her dancing style have been positively evaluated by Randa Kamel and Mandi Aziza Williams, judges of the Egyptian Dream Festival 2012 in Vienna, where Aruena won the second place in professional category, as well as by judges led by Orit Maftsir at the Orient Express Festival 2013 also in Vienna, where she won the third place in professional category.
Aruena is also the organizer of numerous oriental dance evenings, concerts, gala shows, humanitarian events and bellydance workshops. Her biggest project so far is the Oriental Fairytales Festival, which began as a school concert, growing each year with new activities being added to the programme and more and more bellydancers participating. Oriental Fairytales Festival now is the biggest and most famous oriental dance festival in Serbia and region. Aruena is often invited as a gladly seen guest on Serbian televisions, fairs, celebrations and concerts of other oriental dance schools and on international festivals as well.
She is one of the most famous and most influential oriental dance instructors in Serbia, and her teaching skills are well recognized by other instructors throughout the country, which is why she is often invited to hold workshops as well as private lessons to other instructors, and lately she is more and more recognized by foreign teachers and international bellydancers by the uniqueness of her dancing style, her interpretation, energy, emotionality, and her perfect performance technique.
If you wish to book Aruena, the principal organizer of the Oriental Fairytales Festival, as a bellydance teacher for your oriental dance event, feel more than free to contact us! Aruena teaches various dance styles, such as: modern Egyptian pop, oriental routine, tarab, shaabi, saiidi, khaliiji, fantasy fusion (veil, isis wings, fan veil), beledi, drum solo, eskandarani, lyrical arabic song, golden era style, beautiful arms, bellybalet, shimmi a la Aruena, etc. Workshop topics can be adjusted and shaped to be in accordance with your demands and needs.
We are looking forward to your visit to Serbia and the Oriental Fairytales Festival. Rest assured that we will make your stay pleasant and unforgettable. Do not miss April in Belgrade and the opportunity to enjoy Serbian national specialties. Thank you for your trust, we are eagerly expecting you! Always here for you, your Oriental Fairytales team!
Aruena Oriental Dance Studio Website: aruenaorijentalniples.com